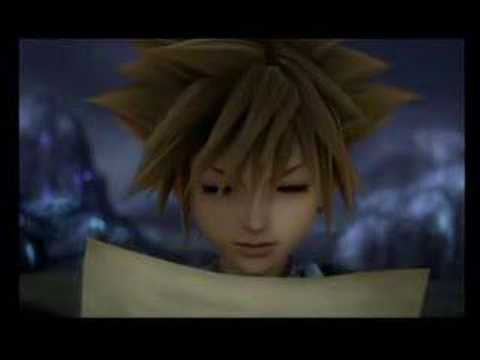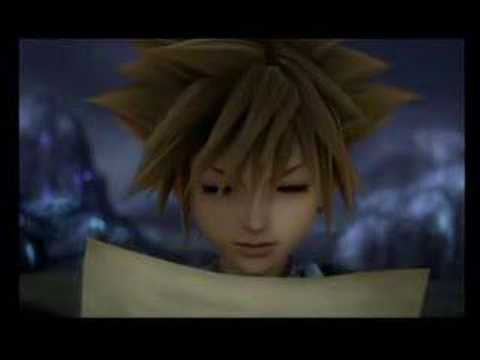 Possibly one of the most heartwarming scenes in...
Riku: End of the road?
Sora: Yep.
Riku: Put me down. I can walk.
Sora: You know... maybe the darkness has gotten to me, too.
[Sora notices Riku on the ground and rushes over to his side]
Riku: This world is perfect for me. If this is what the world really is... just this, then maybe I should fade back into darkness.
Sora: Riku...
Riku: If the world is made of light and darkness... We'll be the darkness.
Sora: Yeah. The other side... the realm of light is safe now. Kairi, the King, and the others are there.
Riku: That's what I mean. Hey, Sora... Could you help me? I want to get down to the water.
[The two make their way down to the water.]
Riku: At least the waves sound the same. What I said back there... about thinking I was better at stuff than you... To tell you the truth, Sora... I was jealous of you.
Sora: What for?
Riku: I wished I could live life the way you do. Just following my heart.
Sora: Yeah, well, I've got my share of problems, too.
Riku: Like what?
Sora: Like...wanting to be like you.
Riku: Well, there is one advantage to being me... Something you could never imitate.
Sora: Really? What's that?
Riku: Having you for a friend.
Sora: Then I guess... I'm okay the way I am. I've got something you could never imitate too.
Cimi Scribbles: "I know you will" →
cimiscribbles: the last words I ever said to that boy with spikey, in white and red and, after traversing many worlds I now I wait for him on this small island, behind the ocean, under the stars and I don't know how many days it's been or how many times the waves hit my ankles as…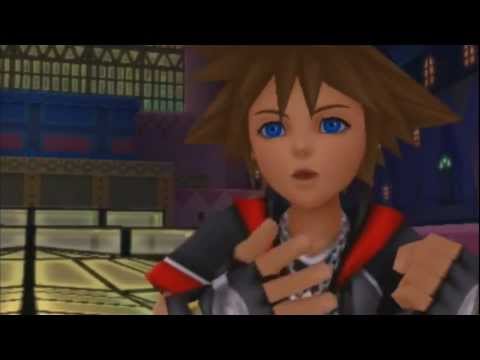 Characters - Hayner →
null-tongues: Canon character, originally featured in "Kingdom Hearts 2." Age. (Arc 2) 17-19 (End) Gender. Male Hometown. Twilight Town Direct Family. Mother and father. No siblings. Appearance. Taller than Zane, shorter than Simon, with a thick head of short, dirty blond hair and brown eyes. …
Another world..
Kairi: So, suppose you get to another world. What would you do there?
Riku: Well, I haven't really thought about it. It's just... I've always wondered why we're here on this island. If there are any other worlds out there, why did we end up on this one? And suppose there are other worlds... then ours is just a little piece of something much greater. So we could have just as easily ended up somewhere else, right?
Sora: I don't know.
Riku: Exactly. That's why we need to go out there and find out. Just sitting here won't change a thing. It's the same old stuff. So let's go.
Characters - Olette →
null-tongues: Canon character, originally featured in "Kingdom Hearts 2." Age. (Arc 2) 16-18 (End) Gender. Female Hometown. Twilight Town Direct Family. Mother and father, younger sister. Appearance. Sweet, emerald-colored eyes and layered, brown hair that flips out near her ears. She wears a sky-blue…
Characters - Seifer →
null-tongues: Canon character, originally featured in "Final Fantasy VIII," and appearing again in "Kingdom Hearts 2." Age. (Arc 2) 18-20 (End) Gender. Male Hometown. Galbadia, Balamb District, Abelia sub-sector. Direct Family. Mother, father fought and died in the first Galbadian war against Adele. No…